Statusupdate 11.11.2023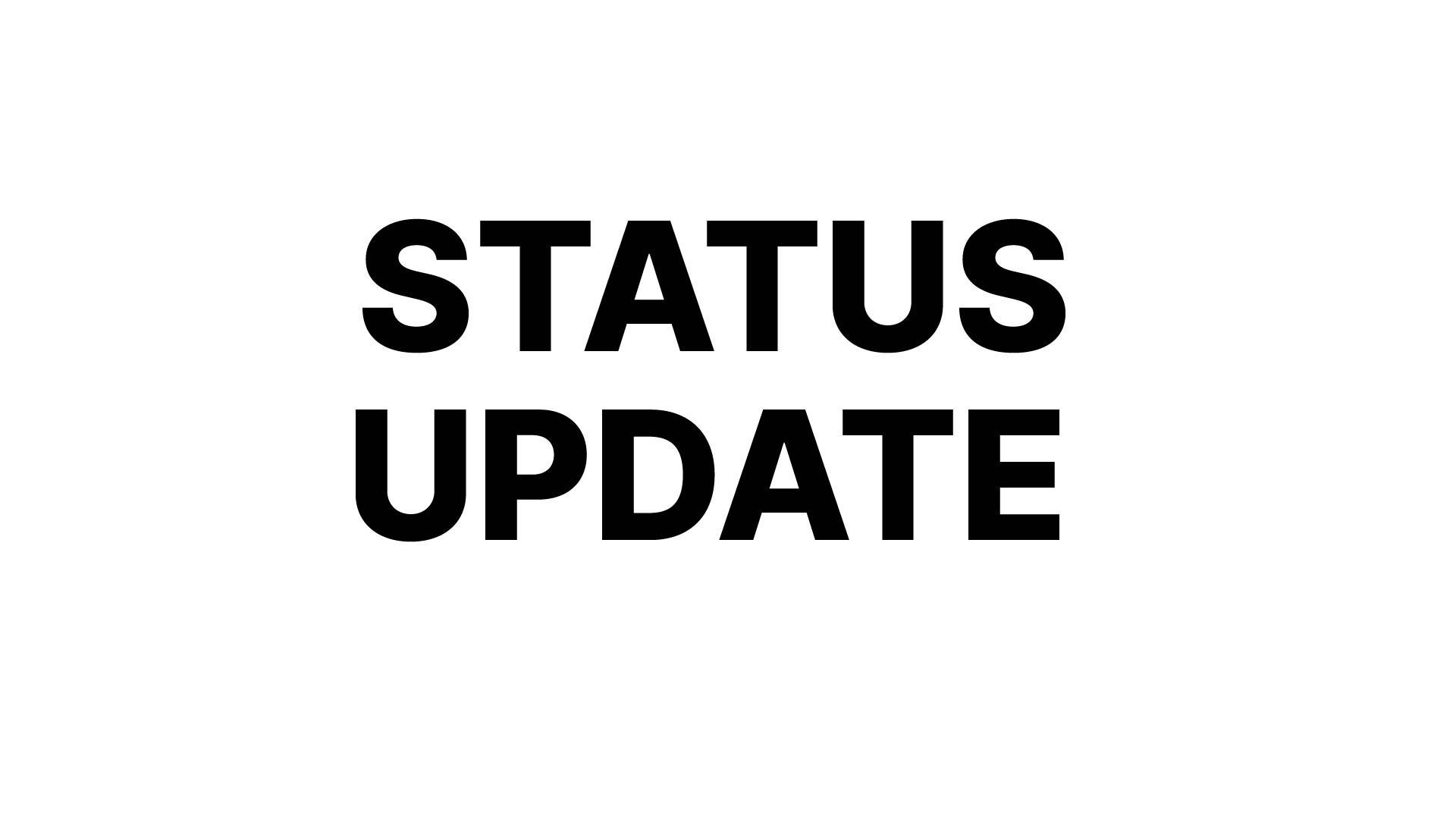 Filen Statusupdate - Sustainability, Future and more
Welcome to the new Filen Status Update. We hope you have some time because it's been a while since the last update and we have a lot to talk about.
This status update will be slightly different than the previous ones. We have received and read a lot of questions recently, most of which have revolved around the topics of the future, update frequency and sustainability. We always read through all our social media channels, but unfortunately, don't have nearly the time to interact with most of them.
---
Table of contents:
---
Welcome to the new Filen Status Update. We hope you have some time because it's been a while since the last update and we have a lot to talk about.
This status update will be slightly different than the previous ones. We have received and read a lot of questions recently, most of which have revolved around the topics of the future, update frequency and sustainability. We always read through all our social media channels, but unfortunately, don't have nearly the time to interact with most of them.
So, I'll answer a little bit here about what we noticed.
Attention! I won't go into detail about individual bug fixes or similar technical things. I've often read that people were dissatisfied when they had the feeling that their bug reports didn't seem to be taken into account. Don't worry, we read everything, and all bugs are added to an internal list. We will also try to listen to your feedback and get into more direct contact with the community.
Unfortunately, fixing individual bugs is usually very time-consuming because most bugs first have to be found & reproduced before they can be fixed. If they are also devicespecific, a fix can easily take up many hours of a day. So please forgive us if non-critical bugs in particular take a little longer to be processed. But I will discuss to this topic later.
First let's get started. Here are the answers to questions we've recently seen on our social media channels:
Our new Project(s) / What is happening in the background in the moment?
Various projects are currently running in different places in the background. Some are technical in nature and others are market and business oriented. Let me give you a good overview.
Project 1: Hardware
A brief preface to this:
From the very beginning, our goal in founding Filen was to create a service that stands for privacy and security while working completely independently without large donors or corporations breathing down our necks and making decisions contrary to the welfare of the users. We deliberately wanted to distance ourselves from cheesy marketing methods and all other customer-unfriendly but unfortunately common market practices. We are all the more pleased that we have achieved this goal in our eyes through your help.
On behalf of all Filen employees, consultants, and partners, we want to thank you for making us what we are now. Because only through you and your discussions in forums, on reddit, discord and in the depths of the internet we were able to grow into the stable company we are now without investors, shady marketing deals and insolvency.
We are pleased to announce that we have now taken the final step towards independence and securing our future! Let me explain what that means.
As you (almost) all know, Filen has never bought/rented ready-made cloud storage solutions like the Hetzner Storage Box or Amazon S3 in the past. Right from the start, we developed our own cloud infrastructure and installed it on empty servers, which we purchased and rented from our partner Hetzner.
In the last few months, we have been thinking about how to proceed in the future and have come to the decision to separate from our previous partner Hetzner in order to strive for complete independence. After long planning and countless visits to independent data centers in Germany, the time has now come.
We have made the largest investment in the history of Filen by acquiring a complete arsenal of brand-new hardware and infrastructure while paying it off in one go. Through this step, Filen is now 100% self-sufficient and independent of the fluctuating costs and options of the market. We have distributed our own hardware and infrastructure georedundantly across many independent German data centers to create a hyper-secure and incredibly fast cloud network completely operated on our own capital assets. Through this practice, we have taken a huge step towards Filen's future financial stability and also secured the company while selling lifetime plans. Servers as a capital investment cause fewer ongoing costs and are more reliable for planning in the future.
To celebrate our successful investment, we will be introducing a new lifetime plan especially for Black Friday, which according to our survey results, many of you wanted.
So, our first project is the construction, setup, and network configuration of our own new hardware at various locations in Germany. Of course, this means that a lot of our time is spent traveling, working and managing this project in person, instead of sitting in the office to develop new features or marketing strategies. In order to ensure the best possible security quality and speed of our new infrastructure, we are working with a team of diverse network and security experts who will support us while we set up the new hardware. Even if our expertise could carry the project alone, we decided to bring in support in order to distribute the workload and further increase the safety quality.
A comprehensive investment calculation shows us how right and important this step was and is.
We will announce as soon as the project is completed, and completely switched to our new infrastructure. This should also be accompanied by higher upload and download speeds for all our users. The first tests of the new infrastructure show the great potential that we have now created.
Project 2: Filen Spaces
As we announced last time, we are currently continuing to develop the Filen spaces. A virtual room for encrypted data exchange in groups and teams. This feature is intended to pave our way into the B2B sector and also to make Filen more attractive for companies, organizations and the like.
Nevertheless, all newly developed features will of course also be made available to private customers. It's a kind of win-win situation because we are developing new features for the spaces, that will ultimately find their way into the end customer product.
Because, of course, the spaces will seamlessly integrate into the existing platform and can be used free of charge by private individuals. After our hardware investment, long-term contracts with other large companies also offer future security through secure planningproof income.
Project 3: Filen Collaborate
Filen Collab is a new umbrella term for several new features that essentially support the basic structure for the Filen spaces. This includes, for example, the contact list in which all your friends can be added to making it easier to share data between accounts. In addition, we implemented an encrypted chat function and still work on chatting in groups (Filen Spaces). The chat contains many features known from other platforms, such as emojis, reactions, tags, and a feature for embedding files, videos, and images directly into the chat. As you can probably imagine, the new chat groups are the basis from which the Filen Spaces will emerge.
There is also one of our personal favorite features: The encrypted notes. With these you can quickly create encrypted notes directly in your Filen drive and share them with others in real time. Simultaneous access to data from different users in real time is also a structure of the file spaces and future family accounts.
As you can see, there is/was a lot to do currently and recently. Especially since all projects must run parallel to normal business. Bug fixes, marketing & sales, taxes, cost accounting and everything else is unaffected by the new projects.
Distribution of tasks in the background in relation to our number of employees
Let's now move on to a brief excursus about the current company structure to give you an insight into why, for example, some decisions were made the way they were.
As you know, Filen currently only consists of 3 permanent full-time employees, a professor from a university in the cybersecurity department in an advisory position and 3 supporting specialists in partial and/or remote work. Filen's local network already extends throughout our entire Federal State. This includes, for example, the Ruhrvalley Start-up Campus, which helped us in the beginning of 2021, or the Bochum Economic Development Agency last year. There is also the Westphalian University in Gelsenkirchen and many other places that have helped and are helping us with advice, networking, and business processes.

But the main workload is still carried out by us three permanent employees.

Our hardest worker is our current CEO and lead developer of the entire service. Every update, every feature and every change to the product comes from him or lands on his table before it is implemented. Of course, there is help from experts in specific. For the new hardware project, for example, we hired a network administrator and a data engineer specifically for quality assurance. Nevertheless, this help only makes up a small part in the grand scheme of things.
His tasks not only include the development of the app, desktop client (for Windows, Mac, Linux) and the WebDrive but also the back end and everything that goes with it
Employee number two and the other co-founder of the platform (me) handles everything related to the business. This includes marketing, sales for B2B & B2C, internal cost accounting, financial accounting and networking with investors, potential partners and co.
Employee number three takes care of customer service and support as well as other support activities such as being on call in the data center, reproducing errors, testing new functions and the graphic design of UX/UI.
As you can see, most of the work of a Software as a Service company actually takes place in the background, where the user doesn't notice much.
This is the situation we are currently working with and have become surprisingly successful. However, there are of course things that are unfortunately neglected due to the high workload.
With everything said in mind, I'm now going to answer all the questions I've read recently on our social media channels and in the survey.
Why are there Bugs that haven't been fixed for month? And what are we going to do about it?
Finding and eliminating bugs is one of the most time-consuming operations in everyday business. Actually, fixing the problem is usually the easy part, as every bug has to be reproduced first before it can be fixed. Factors such as different operating systems and end devices sometimes make the task extremely difficult. As discussed in previous posts, we currently have a lot of projects running which means the time to find and reproduce bugs is very limited. Of course, system-critical, or security-relevant bugs are always treated immediately with top priority, but all other non-critical bugs suffer from our limited time.
And what are we going to do about it? Hire more employees for precisely these tasks!
More on that in the next question.
What we do to solve the most acute problems!
The most frequently mentioned problems that our community has noticed are the intervals at which bugs are fixed and the frequency of interaction with the community.
Unfortunately, since the day will not suddenly have 25 hours, we have decided to hire new employees. This is one more reason why our last hardware investment is very important for us, because by switching to completely in-house hardware we have had incredibly high one-off payments, but significantly reduced our variable running costs.
As soon as the dust has settled and the entire new infrastructure project is completed, we will have more than enough free capital to finally hire the new employees in development and marketing we needed for a long time. We have already conducted a lot of interviews and have some candidates on our waiting list. We hope to begin the recruitment and training process in the spring of next year.
The new developer or developers will be assigned as experts to specific areas of development so that our current main developer no longer must jump from area to area. The aim in the first step is to hire one designated specialist for each area. So, one developer each for our web app, desktop client, mobile drive, and backend/infrastructure. Once we have achieved this we will analyze where further support is needed.
One or more new employees in Marketing & Sales would be used for community management, online marketing and sales in the B2B area.
Above all, regular appearance and interaction on all our social media channels and in the blog must become one of the new priorities. Therefore, we definitely need staff who are familiar with social media marketing and creating graphics.

Will Filen focus on the B2B sector and neglect end customers?
No, even if we will definitely enter the B2B sector in order to generate reliable income, at our core we will always remain a platform for private end consumers. All features that we develop for business tools are always checked in advance for compatibility with the normal B2C platform. This means that almost all of the features we develop, for example, for the Filen spaces will also be available to every normal B2C user.

How sustainable is Filen, especially in terms of lifetime plans?
Filen is and has been profitable from the start. Of course, there were many times where we invested more than we generated revenue, but this is completely normal for any growing company, especially for startups. At no time have we had falling or worrying numbers and sales.
The only problem we had was our fixed ratio between sales and profit. This means that as we increased our sales, we also incurred more and more costs, which meant that although we were growing overall, we still didn't have much money left over to hire expensive fulltime staff.
This has now changed. Because of our new investment, we have separated ourselves from a large block of ongoing costs and now have free monthly capital to hire employees. This is also the reason why we will wait with the hiring process until the hardware & infrastructure project has been completed and finally analyzed.
The lifetime plans are also heavily affected by our new hardware, because this allows us to calculate lifetime plans differently. In the future they will have a "dedicated section" in our cost accounting, meaning that the normal monthly and annual plans will no longer have to offset the costs of the lifetime plans, but lifetime plans will be "profitable" on their own. This means we can also adapt our algorithm that decides how many lifetime plans are available in relation to normal plans.
In short: Through good investments we are much more future-proof and profitable, which means that lifetime plans will be available more often and the company can grow faster & stronger.
What about the trust agenda?
Our side of the work on this topic has already been completed and all discussions have been held. The length of time until the agenda will be released is therefore not at our discretion. Since the agenda also serves as the basis for a master's thesis from the student at our partner university, we unfortunately have to wait until all work is done at university level. Of course, we hope to get access to the agenda as quickly as possible.
When will an audit finally be conducted?
The planned independent security audit has been a topic of conversation for a long time, both within the company and in the community. After we had already had an audit carried out in the past, we quickly noticed our mistake. Audits are incredibly expensive and only remain valid as long as the audited parts of the software no longer really change. So just a few weeks later we realized that we had spent the money unnecessarily. Getting a spontaneous interim status about our security was nice, but not worth all the money. From then on, we always waited for a good moment to initiate a new audit, but new projects kept coming up that brought about such big changes that we threatened to make the same mistake again.
After we had decided on the currently running hardware project, we knew internally that a new audit would definitely have to wait until the project was completed, as we would once again turn the entire back-end upside down. We are currently planning to carry out a new audit within the company over the next year. Unfortunately, we don't have an ETA for you because we haven't yet decided when we're ready for it.
When will there be a newsletter?
We initially planned to publish the newsletter with the new changes to the website shortly before Black Friday. Unfortunately, due to the three projects mentioned above, we no longer had time for this. From a technical point of view, the newsletter is already finished, but the visual elements and the implementation on the website are still missing. It is expected to be published this year. Everyone who registers will receive all information about new updates, special offers and important company changes in a timely manner.
What do we want to change about the Filen.io website?
The last very marketing-oriented status update and analysis in the area of online marketing and SEO gave us a lot of new insights.
We will therefore add more information to the landing page of the filen.io website and make it visually more attractive. The pricing and encryption pages will also receive a timely update. Plans include, for example:

A comparison section where we compare our features with other market providers

A common thread that clearly shows what values define us.

More information about all available features

A clearer graphic of the encryption process

A dedicated page for the new Filen Spaces / B2B

Translations into other languages
Are Lifetime Plans stackable?
We can't answer this question often enough - Yes, Lifetime plans are stackable.
Example:
Anyone who purchases the Starter Lifetime Plan (100GB) three times will receive 3 x 100GB in addition to the storage they already have. So, if you already had 30GB of storage through referrals, you would now have 330GB of storage. Don't worry, we won't steal your Storage.
The same of course also applies to normal subscriptions.
Will there be a "Files" app integration?
Yes, this function is already in the pipeline and will be implemented in the next app update!
When will there be a global search function?
Unfortunately, this is a feature that is very difficult to implement. Our all-encompassing client-side encryption also encrypts filenames and other metadata on the user's device. This means that when using the search function, only "already decrypted" file names can be found. With a global search, each encrypted file would have to be searched for individually in the background, which would take a very long time. We have been thinking about a solution for a long time, but it will definitely take some time until we find one that meets our safety and quality requirements.
Will there be a Black Friday sale?
Yes, as always there will be a Black Friday sale with attractive discounts on all Monthly/Annual/Lifetime plans. As already mentioned, there will also be a new plan which will only be available for the Black Friday period
Will there be virtual drive mounting?
Yes, there will be a way to integrate virtual drives. We have already created a rough concept of how this could work. The dedicated development is expected to start after the File Spaces project is completed. The desktop client will change a lot and will be redesigned to match the webdrive look. At the same time, a virtual drive option will also be implemented. Unfortunately, I cannot provide much more information on this topic.
RClone & Webdav
WebDAV will not exist in a traditional form, for example by connecting directly to our servers. This is not possible due to our end-to-end encryption. Third party WebDAV clients, such as built in ones in Windows or MacOS, do not "understand" it, to put simply.
With the help of the desktop client, we will create a possibility to host a local instance, via which access will then be possible.
This is different for RClone. RClone is an independent open source project where everyone can contribute code. We are already working on a backend implementation for RClone.
When will it be possible to upload data to the mobile app in the background?
Unfortunately, this feature will divide the mobile phone user community as we cannot offer equality across different operating systems with this one. The development of background uploads for the Android mobile app is completed and will be released together with the local files app integration in the next mobile update.
At the moment it looks as if we can deliver a slimmed-down version of the background upload for iOS, as Apple/IOS is throttling the background performance third party apps can use. There will be a background upload, but it will not be as fast as on Android. It will work for uploading single pictures from the automatic camera upload, but unfortunately not for a large number of pictures or files at once (for example, if you take hundreds of pictures a day). We will continue to work on this feature and try to improve the performance as much as possible.
User survey
We will currently continue to conduct around two user surveys per year. A higher frequency would mean that only a few differences could be seen between the surveys. In order to keep the effectiveness and participation of the community high, we will continue to operate as usual.
Nevertheless, we will change something. Namely the handling of the data we collected from the survey. We want to be more open about the tendencies that emerge in the community and how we deal with them. Of course, the survey data is subject to data protection, which is why we will only publish trends and not exact answers.
This will make the company's internal decision-making process clearer to understand for anyone who is interested. E.g. why we edit some features earlier than others.
We will let you know on social media platforms as soon as the time comes. As always, all analysis will be posted in our blog.
Merch Store
When it comes to the merch store, we have to admit we lost focus a bit. Even though many of you showed interest in the last survey, we are sure that the store is more of a "nice to have" than a "we absolutely need."
We tried to find a partner who would take care of the logistics components for us, would produce locally, and would have offered good quality. Unfortunately, we haven't really found a suitable partner yet. A big problem is that we can't calculate what quantities we can buy, which is why we need a partner who can produce according to demand. We are currently hoping to be able to carry out this project over the course of next year.
Marketing
We have many ideas to make Filen better known and are pursuing a new, stringent plan. The first step will be adding information to the website. Because the website is the interface that is supposed to show new visitors what we offer and why they should become users. Anyone who becomes aware of Filen for the first time, whether through marketing or their own interest ultimately ends up on the website.
After this step is completed, we will try to implement more discreet marketing by entering into collaborations with influencers or entering into deals with online magazines, Discord servers or news sites. In this way we try to keep marketing informative and discreet. Because let's be honest, nobody likes to receive advertising, especially not about a topic that doesn't interest them at all. We try to place ourselves where there are people who are interested in the topic of cloud, privacy and security anyway.
Of course, communication with existing users may also be part of the topic of marketing. We try to inconvenience existing customers as little as possible by avoiding retargeting campaigns and the like. If you would like to receive information from us out of your own interest, you are welcome to voluntarily subscribe to our upcoming newsletter or follow our Reddit/Discord/Twitter.
Conclusion
That's the end of this status update, we hope it was informative and answered many of your questions and provided an exciting insight behind the scenes.
Even though the current workload in the company is extremely high, we are happy to be heading towards a very bright future through growth and a successful investment project. We look forward to new challenges, new permanent employees, and everything else that comes our way.
From now on we will try to post a new update at least every quarter if not more frequently. We have learned from our survey and social media that most of you would prefer to receive regular, somewhat shorter updates on current topics rather than waiting longer for a more extensive update.
If you have any further questions, feel free to ask them in support or, even better, in the status update announcement post on our subreddit.
Thank you for your attention and for your support of Filen!